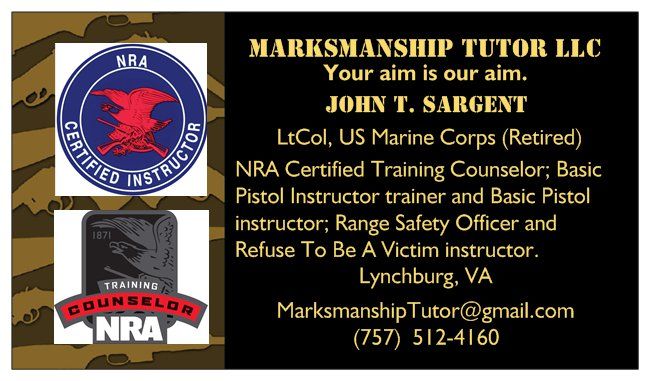 Click on "Comments/Recommendations" above for actual student comments.
Greetings,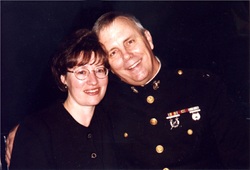 If you are interested in becoming an NRA Pistol Instructor, contact me through the form below. I can qualify you for this as I am a certified NRA Training Counselor who trains instructors. After you qualify, you can then teach others and award completion certificates that the State requires for concealed carry permits.
1. NRA Basic Pistol Shooting Course - includes use of gun, ammo, completion certificate for concealed carry permit = $124; if we use your gun and ammo, $114.
This is the entire NRA Basic Pistol course that meets the State of Virginia requirements for a concealed carry permit. Range fees (minimal) are extra. I guarantee you this: if you apply what you are taught, you WILL shoot safely and accurately.
If you are interested in taking this course right away, contact me through the form below for more information. I will be happy to work with your schedule, rather than scheduling classes and you have to change your schedule. No problem with me to schedule what is best for you.
*Please note: I am a shooting instructor - I don't sell guns nor do I have a shooting range. If you are
looking for a range
, I recommend either:
Bob's Gun Shop, 746 Granby St., Norfolk 627-8311 or Superior Gun and Pawn, 4859 Virginia Beach Blvd,Virginia Beach (757) 490-4760.*

Recommend that you
AVOID Colonial Shooting Academy
at Witchduck and VB Blvd., they will not allow me to coach you on the firing line.
Welcome to the Marksmanship Tutor website. I am John Sargent, here with my wife Betsy, and I am a retired lieutenant colonel, US Marine Corps. During many years of service in the Marines, I received some of the finest firearms training in the world.
In fact, every Marine is required to go to the range every year for two weeks for weapons training with the service rifle and pistol. The instructors there are some of the best there are, and I would like to offer my training and experience to you.
Many people buy guns thinking that there is nothing more needed than to load it and shoot it.
Question: would you go to a building supply store, buy a hammer and saw and suddenly think that you are a carpenter?
Would you buy a piano and suddenly know how to play it with no training?
Would you buy a paintbrush and canvas and suddenly think that you are Michelangelo or some famous artist?
Would you buy a wrench and suddenly think that you are an auto mechanic?
You know what the obvious answer is to all of these questions.
I am a National Rifle Association (NRA) certified pistol instructor. You can take the NRA Basic Pistol shooting course. T
his course will meet the State of Virginia requirements for a concealed handgun permit)
.
If you are interested in learning how to SAFELY and PROPERLY handle your firearm, shoot accurately, clean and care for it, and/or prepare for the Carry Concealed Weapon license in Virginia, then please contact me by filling out the form below.
NOTE: THIS IS NOT A VIDEO ONLY COURSE!
THERE ARE NEVER MORE THAN 5 STUDENTS, AND YOU WILL HAVE OPPORTUNITY TO ASK QUESTIONS AND CONCERNS. IT IS FACE TO FACE, PERSONAL AND THOROUGH.
IF YOU ARE GOING TO CARRY A GUN, I MUST BE SURE THAT YOU KNOW WHAT YOU ARE DOING, AND THE COURSE IS DESIGNED TO THAT END. IF YOU WANT A CHEAP VIDEO COURSE, FINE, BUT IF YOU HAVE TO EXPLAIN THAT TRAINING TO A JURY, DO NOT EXPECT THEM TO BE SYMPATHETIC TO YOU.
If you need further information about the laws concerning buying or carrying a concealed handgun, click here to connect to the Virginia State Police website.
We are located in Virginia Beach, VA.
Contact me through the block below, phone or email above on my business card at top of page.
Here is what it means to be a Christian: http://www.the21dayjourney.com/
---